Its double bonanza for GameAnax: Dot out and Gravity Life released for iOS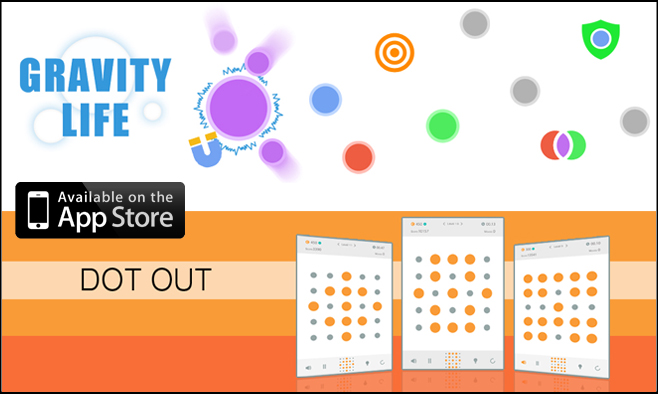 GameAnax could not be having a better week. We are pretty stoked and thrilled to announce the release of our two new games, 'Dot Out' and 'Gravity Life' on iTunes. The exciting games will be free to download on the app store.
Both games are as different from each other as chalk and cheese. Dot Out is a challenging puzzle game while Gravity Life is an action-based survival game. In spite of the underlying differences, both games challenge the player's wits and provide an awesome gaming experience.
Dot Out is an ultimate mind-gripping puzzle which challenges players to use their logic and reasoning skills. Players have to eliminate all the dots from the grid to create a Dot Out. Players need to use their wits when they tap and select a Dot to eliminate. As the player taps a Dot, its adjacent horizontal and vertical Dots also get eliminated from the screen. The pattern mode with 25 distinct levels works slightly in a different manner, where players have to achieve pre-defined patterns.
While the gameplay is fairly simple to understand, it is compelling deep behind its deceptively placid interface. The easy tap-and-play control makes the game very convenient and user-friendly.
Gravity Life is a survival game centered in the vast expanse of space. It follows the journey of a purple circle as it spirals down in the infinite space encountering deadly viruses and obstacles. The only approach of survival is to absorb similar circles to keep it alive and flourishing. This endless game challenges the player's reflex skill as they use the accelerometer and swipe action to tackle the purple circle to grow and find similar life forms. The strategic adventure gives a unique experience to players with its gorgeous graphics and hypnotic sound score.
The game tests to see how long the players can survive in the free falling space while destroying the lethal viruses.
The Android users need not be disappointed. Both games are due to launch on Android any day soon.
Join the adventure today! Download Gravity Life and Dot out on your iOS devices!