Doodle Tank Battle released for Android and is Moga-enhanced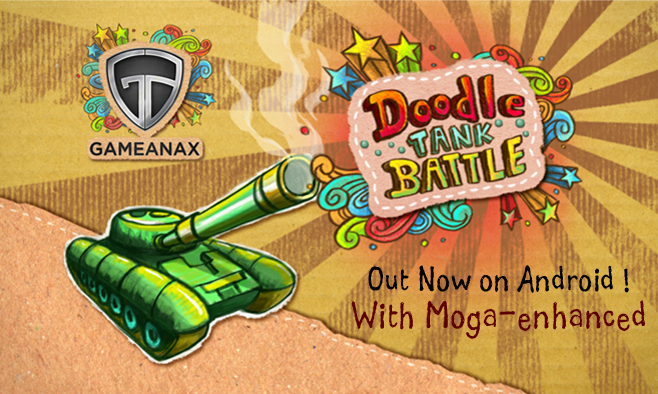 We are happy to announce the release of Android version for Doodle Tank Battle. The game that took Ouya and iOS users by storm is releasing for Android users. And to top this exciting announcement, we have additional news for the game. Doodle Tank Battle is now compatible for Moga controllers. Yes! You heard that right. Now you will be able to experience this epic battle with Moga controllers.
Doodle Tank Battle is a 2D tank based shooter game challenging the players to destroy the rival army's turrets, bunkers and tanks. The game combines the challenge of a battlefield combat with doodle themed graphics across various fun environments. It promises hours of fun and excitement as you take charge of your tank and unleash its power by shooting explosive shells.
The game features two exciting modes: Campaign and Endless mode with variety of battlegrounds. The game also features dynamic power-ups to help players counter the brutal attacks. High-end visual effects and peppy sound score add to the beauty of the game. Creative graphics coupled with a captivating gameplay have resulted in the wide popularity of the game across Ouya and iOS device owners. Now, this battling extravaganza is coming to Android to enthrall the gamers.
As the game becomes compatible with Moga controllers, you can experience the console-style gameplay right on the Android devices.
It's time to fight for your glory! Download Doodle Tank Battle on your Android devices today! Moga users can download the game here.
Stay tuned on Facebook and Twitter for more updates.
Check out the video to experience the game.
)