Which Game Engine you should choose?
Unity3D and Unreal Engine are only 2 Game engine which executes an indispensable position in Game Industry. The choice of the engine must be based on the necessity because both own their individual offerings.
Basically, a Game Engine depends on what sort of game you are thinking to build. I would prefer you to think and find the answer of below points before deciding and moving ahead with the selection of Game Engine…
Do you want a 2D or 3D or 2.5D?
Do you want your game to have the high quality of graphics?
Do you want this game for your personal use or it would be launched on App markets?
Once you find the answers to above questions you can move to the further below points…
Programming Language
The Unreal engine holds C++ and Unity3D holds JavaScript and C#. Hence, it completely depends on your choice.
Asset Store
All engines have ready-to-use 3D models of characters, environments, sounds as well as particle systems. Unity3D appears on the top in terms of assets store because it has a lot of assets including animations, GUI generators to extensions for AI control and framework name ORK for creating RPGs
With this fact, I prefer Unity3D.
Platform
We all understand that the higher platform independent a game engine is the higher users it would bring…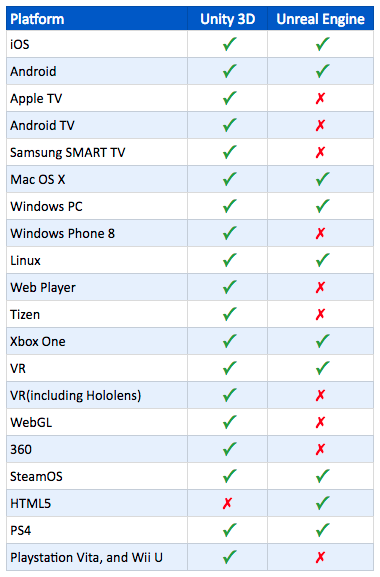 Here, Unity wins again.
Virtual Reality & Augmented Reality
It depends on your plan to target for what- Mobile VR or PC/Console VR…
For Mobile VR: Go with Unity
For PC / Console VR: Go with Unity or Unreal
Unity supports many hardware with fastest response as well as it is very much optimized with the mobile devices which is the largest market now a days and so in the future. Also, it provides a lot of Dlls for every level of skills.
So, if you want huge audience with fast responsive VR, AR application Unity is the suitable engine.
Whereas Unreal is based when the application is targeting the high-end PCs only.
Mixed Reality
We can not avoid HoloLens when discussing Mixed Reality and most of the HoloLens development is happening in Unity only.
There is a fact of the partnership of Microsoft with Unity and AutoDesk(gives popular software for computer-aided design (CAD) projects, which includes all kind of 3D rendering) for Mixed Reality tools and supports.
To place a 3D model into the Mixed reality when CAD geometry is totally modelled via boundary representation, Unity game engine works with meshes and represents them in the 3D world very easily and effectively.
Where Unreal Engine 4 doesn't provide any support with the development of Mixed Reality
MultiPlayer
Unity provides great support to AI, networking and multiplayer system to games like Real Time or Role Playing games for most of all platforms listed above.
Monetization
Unity is more powerful in comparison to Unreal by providing Ad Network SDK of most of all popular Ad Networks. Monetizing game with Banner, Full Screen, Video, Offer, Mini Games are easy with Unity.
After examining in detail and considering these parameters, Now, you can pick the suitable game engine according to your game idea.
In case Unity is your choice, we can certainly provide you Unity certified developers.
Drop an email at enquiry@gameanax.com